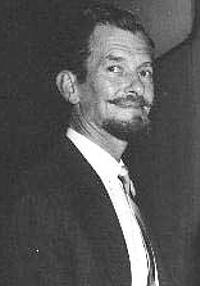 Bill "Curl the Mo" Reynolds

One of the all time greats in Australian midget racing.

Bill won:

The World's Speedcar Championship in 1939, 1941 and 1958.

The Australian Speedcar Championship in 1956.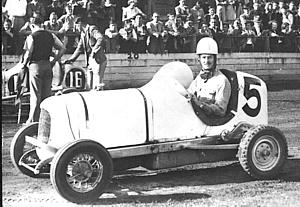 Bill in the # 5 car , Sydney Sportsground 1940s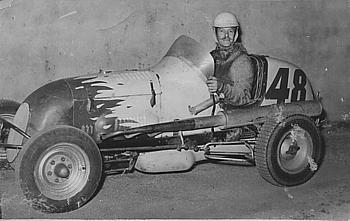 Bill in the now historic cream/yellow and red Ford V860 "Flame Car" ex Frank Brewer # 48. This car went through the hands of, Frank Brewer (48)  Andy McGavin ( 48), Bill Reynolds (48 & 18 ) Fay Taylour (18), Werner Greve (13) and Johnny Harvey.(13)  It was restored by Bill Wells as the Harvey # 13 and is now owned by ex Speedway Royale photographer, Warren Bridge .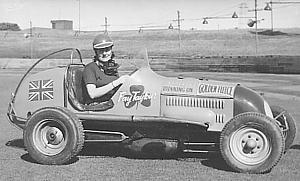 Although Irish woman driver Fay Taylour is in the car, this is the old # 48 Flame Car which Bill also drove in this livery, the Yellow and Blue of Golden Fleece. It ran as # 18.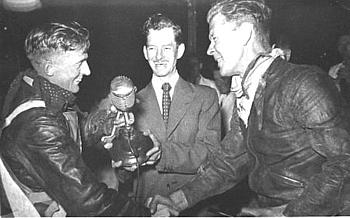 Bill seen here in the centre of Aub Lawson, left, and Jack Parker, right, carrying out his commentator duties. Bill was Sportsground Speedway Manager and commentator for a period around 1951.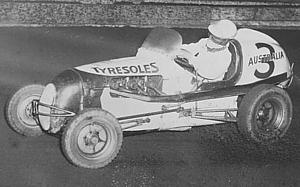 Bill in the Harold Barnes Holden # 3. Bill won many races in this fabulous old car. It was the first Holden powered midget to run in Sydney.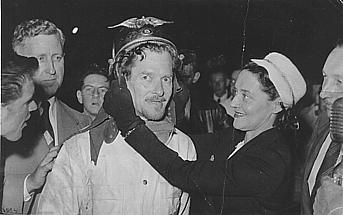 Bill receiving one of his many Trophies over the years, the Speedcar Golden Helmet. Two very famous faces in this photo, second head on left, John Sherwood, face far right is that of Frank Arthur.   Sherwood was a car racer in the 20s and 30s and Frank's partner in Empire Speedways Pty Ltd.  Frank, as well as being John's partner was a pioneer in Solo racing both here and in England.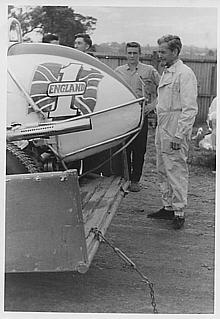 Bill, standing by the tail of the last midget he raced, England #1.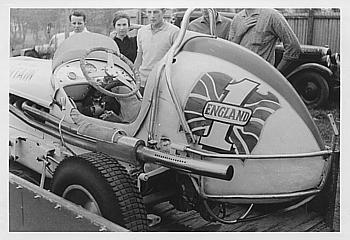 The ex Rex Sendy SA56 Repco Holden , shown here as England Number 1.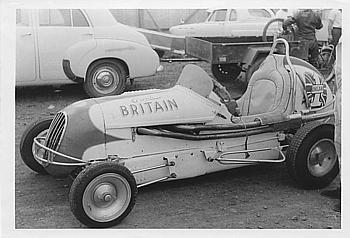 This is also the car Happy Hirano drove on his Australian visit.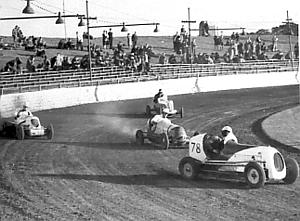 Right:

Bill Reynolds in the four wheel drive English Skirrow  # 78 leads the field at the Sydney Sportsground Speedway. Late 1930s.

I hope you have enjoyed the Tribute to Bill Reynolds.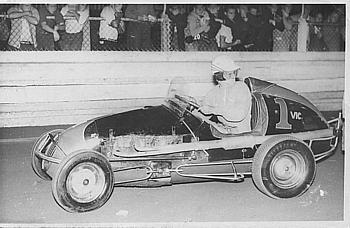 Bill had a guest drive of the Beasley Holden  Vic. #1.

This car went on to be the Mackay # 65 and finished as the little BERCO # 65. The car is now restored as #65- the Little BERCO REPCO Holden.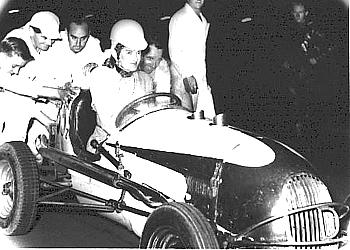 Sydney Sportsground Speedway 1950, Krazy Night, and Bill dressed in drag gets pushed away in the Reece Discombe V860 NZ # 35. They called Bill "Miss What-a-Cam"  because of his padded breasts profile. Reece remembered the night fondly, now deceased he lived in retirement in Vanuatu.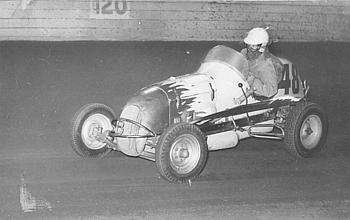 Bill in action in the "Flame Car" # 48