This collection of photos is from Bryan's own personal photo album. They are memories of his career and  midgets  that he drove over the years. The collection contains photos of not only Bryan but of brother Peter as well...........Thank you Bryan and Joyce Cunneen.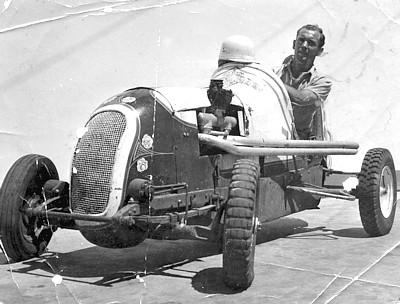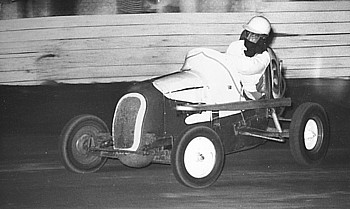 Bryan and his first midget # 38 with Whippett power. 21 - 10 - 1956

# 38 with Whippett power ( now with twin carbs ) Windsor Speedway -1957.

First feature race win - Cumberland Oval - Parramatta 1957 - # 38 now has Holden power.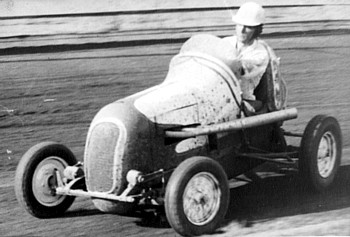 Windsor - Winter 1957 - # 38 with Holden.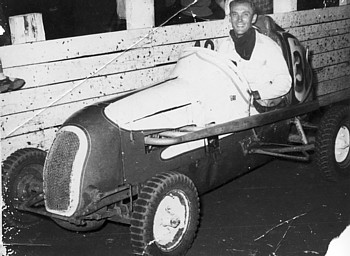 After first feature win - as photo above - Cumberland.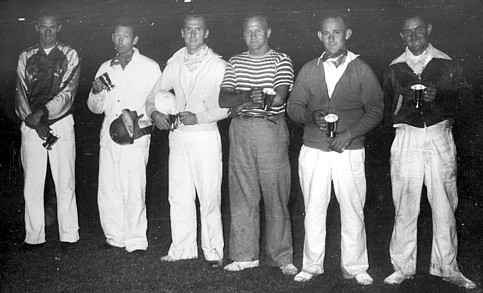 Sydney vs Parramatta - at Cumberland Oval - January 1957

Winning team was Sydney.

From L to R : Ken Morton - Kev Forrest - Peter Cunneen - Dallas James - Norm Jackson - Nick Collier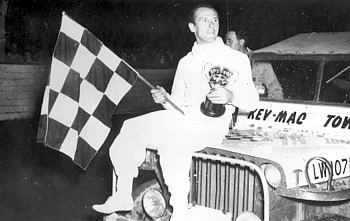 Peter, after winning the Cumberland Oval Championship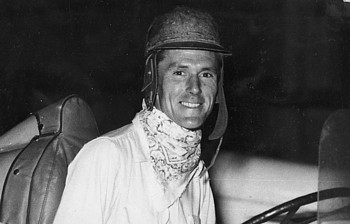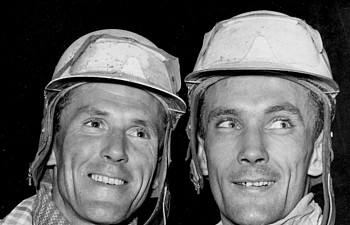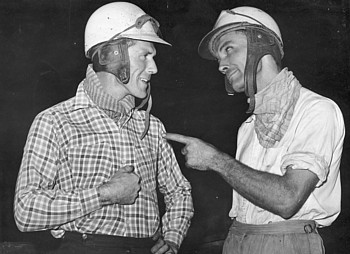 Peter & Bryan

They were brothers but they were also competitors.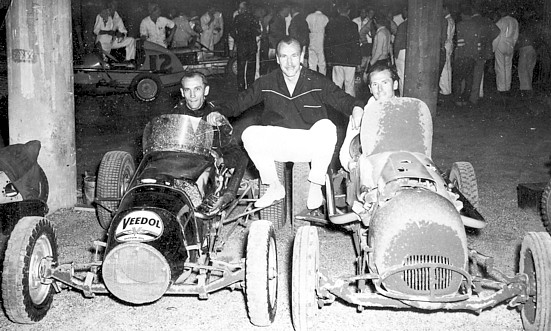 The three Cunneen brothers.

Bryan in his self built Holden # 38 - the late Harold - the late Peter in the famous Murray Twin # 4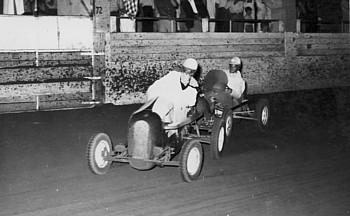 Bryan in the Holden # 38 leads Peter in the Murray Twin - Pit turn Sydney Showground.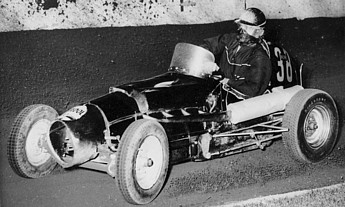 The new # 38 black Holden midget built by Bryan.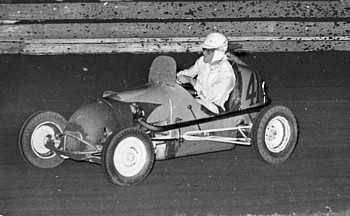 Peter in the Murray Twin # 41 on his way to his first handicap final win. This was the old Vic Hibberd car which was modified to take the twin and later more remembered as the Don Murray  # 4.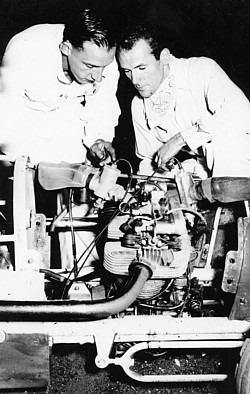 A great photo of car owner,  Don Murray ( left) and driver Peter checking out what was probably one of the fastest twins to ever run in Sydney Speedway in the 50s and 60 s.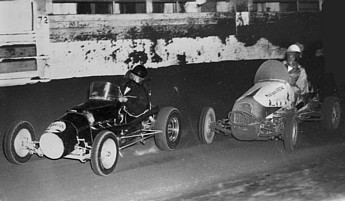 Bryan in # 38 leads Andy McGavin in # 5 at the Royale in 1958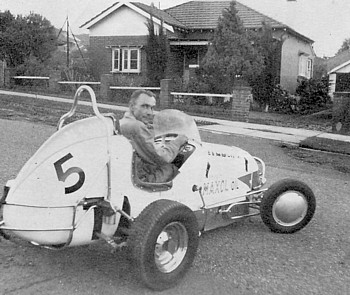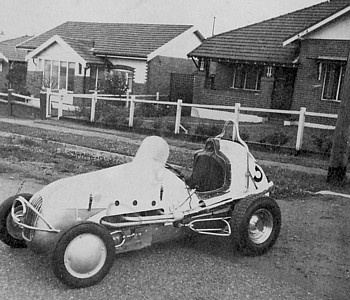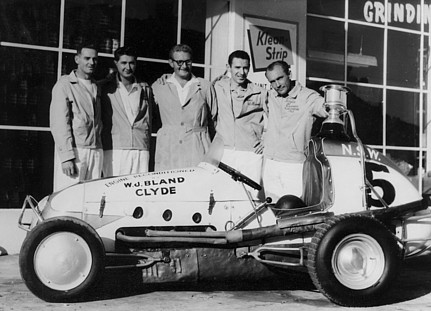 Bryan outside his  home in the ex Beasley midget re numbered to Bryan's # 5. Bryan had many successes in this car.

Bryan ( far right with trophy) with his sponsors from W.J.Bland Engineering and crew after winning the 1962 NSW Speedcar Championship. This car was later painted black.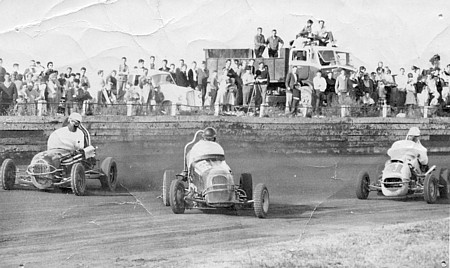 Brian Myers outside Bryan Cunneen in the black # 5 with Peter Cunneen rear in # 41.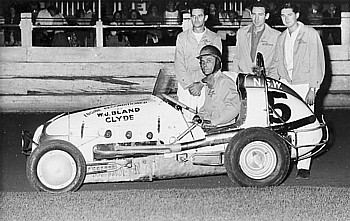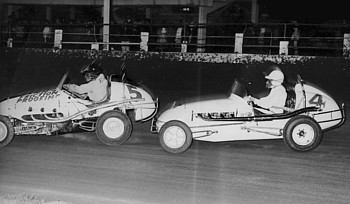 Bryan in # 5 and Peter in the M&D Mtrs. Holden # 4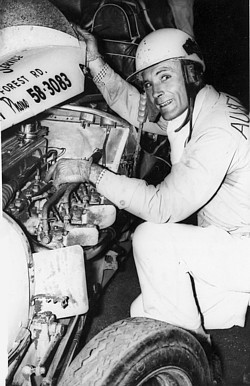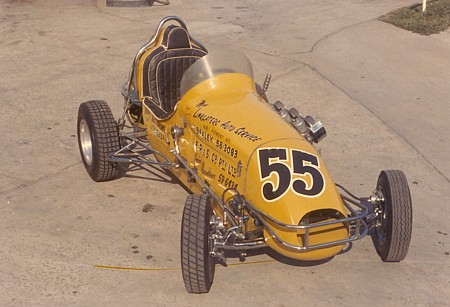 The later Max Linklater # 55 Holden that Bryan drove to many victories including probably the best match race ever seen at the Royale between Bryan in # 55 and Sherman Cleveland in Offy # 10 - 1966............ (Right) Bryan and the famous # 55.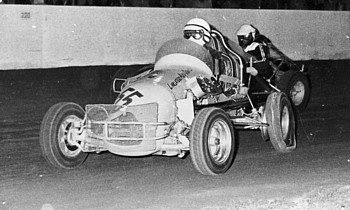 Bryan with a flat LR on # 55  -  Sid Middlemass in the roadster.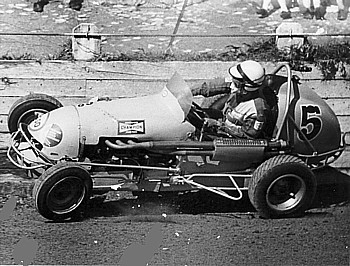 Bryan in the ex Peers REPCO has an argument with the fence at Westmead.

Left : A great photo of Len Brock out wide in the McGee # 13 with Bryan on the pole line in the

E.R & S / Esso  - REPCO # 5

at Westmead Speedway .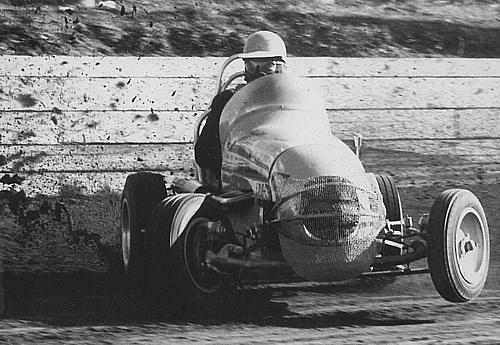 Not actually from Bryan's collection but I felt I had to include this photo from this great driver's career. Bryan at full tilt in the ex Hollywood Spring & Axle Offenhauser numbered # 5.

A  Warren Bridge Photo.

There are many more photos from Bryan's collection that I could not fit on the webpage due to space restrictions - Thank you Bryan very much for allowing us to share your memories in this pictorial form,

Brian D.