Gordon Mc Isaac of New Zealand is the owner and restorer of the original
Paul Swedberg / Arch Tuckett  # 99 / # 9 midget. Built at the Technical Institute in Alameda  Ca. in 1935 it was raced as the Alemite Lubricants Special and Swedberg won a 1936 Pacific Coast Championship race in the car, running as # 99.


It was originally powered by a Continental Star engine.  In 1937 Duane Carter bought the car and immediately shipped it off to New Zealand for the  famous 1937- 38 tour of American midget drivers.  This car won the first ever official midget race at Western Springs Speedway  NZ on Christmas night in 1937.
( This tour was where the famous Frank 'Satan' Brewer got his intro to midget racing ).


Carter sold the car after the tour to Arch Tuckett and Tuckett renumbered it # 9 and raced it very successfully in S.A, Victoria and NSW in Australia and afterwards Arch and his wife emigrated to New Zealand in 1940 and that is where the car has stayed ever since.

It has had numerous drivers and changes over the years, including after the Star engine expired , the fitting of an A model Ford engine, the number stayed as # 9 and Gordon has restored it to its earlier red livery.
Old # 99 / 9 as it is today in New Zealand. Shown here presented in Gordon's private and

comprehensive Speedway Museum at his home. Trophies shown here were won by Arch Tuckett.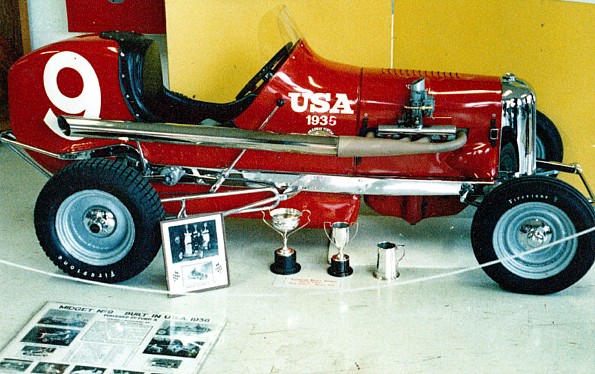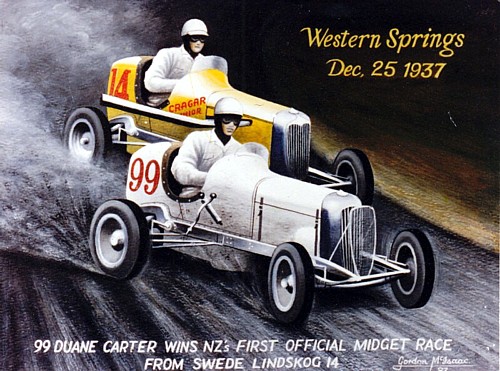 Duane Carter - Western Springs NZ  1937 - photo autographed to Arch Tuckett.

A painting by Gordon McIsaac.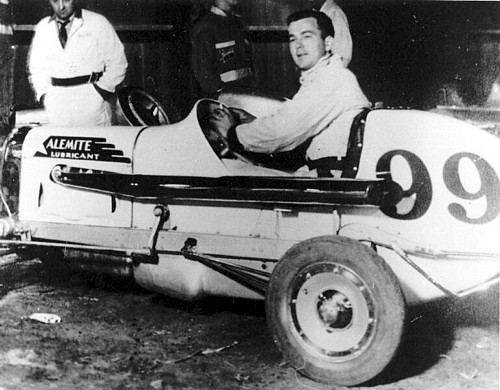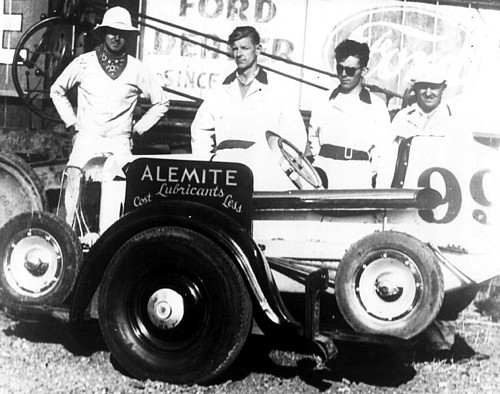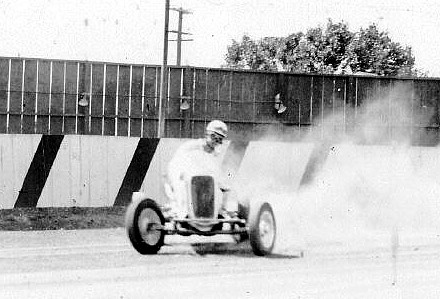 Paul Swedberg in his Alemite Lubricants Special # 99 - Gilmore 1935.

Paul Swedberg (far left) with # 99 and pit crew.(USA)

Paul and # 99 in action at Atlantic City Speedway - USA.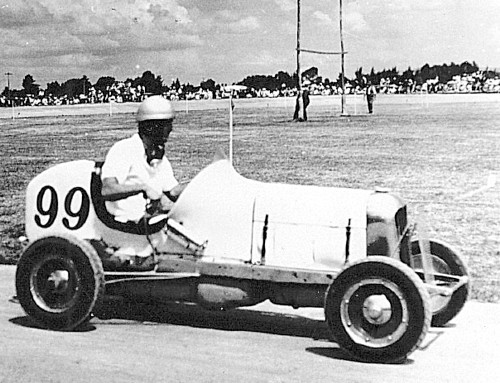 Duane Carter and # 99 at Morrinsville - 1938.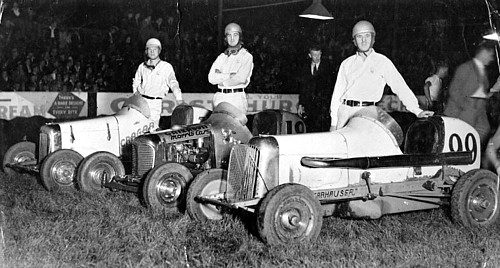 Monica Park Christchurch NZ - January 1938.

L to R - Swede Lindskog #14 - Paul Swedberg # 18  - Duane Carter  # 99.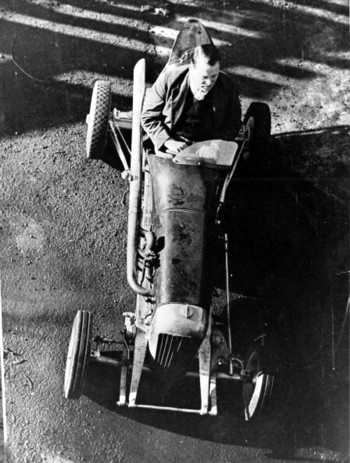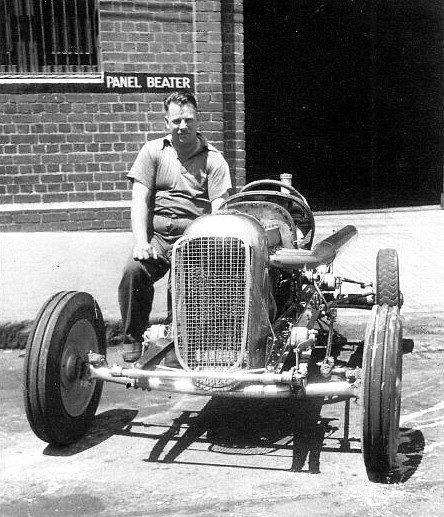 Arch Tuckett with the car- (left) with the Star engine - (right) after the A model Ford engine had been fitted.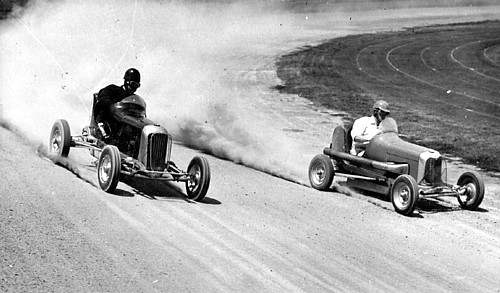 Two photos of Arch dicing with Beale Simmons -  Melbourne 1938.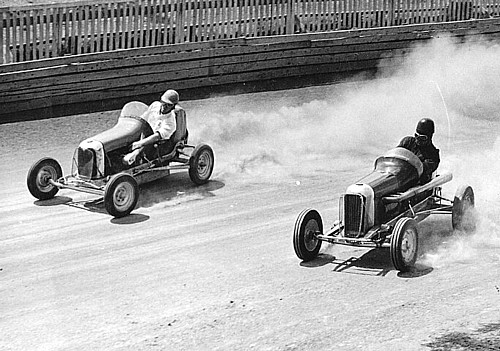 Arch                                           Simmons with Elto power.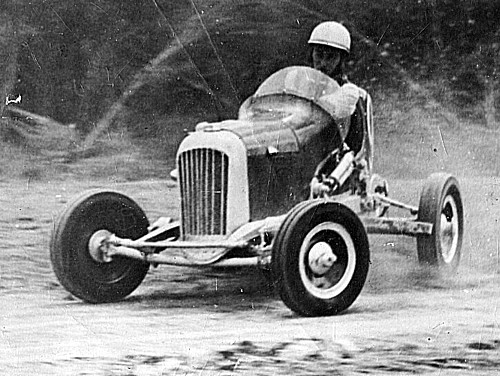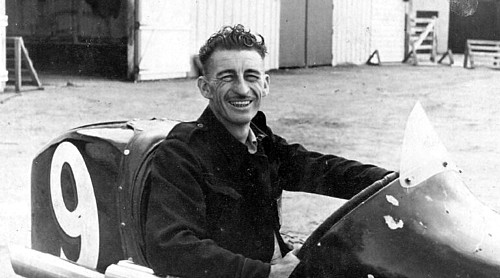 Pee Wee Anderson bought # 9 off Tuckett and ran it from 1944 to 1946 (black paint)

Pee Wee and # 9 in action.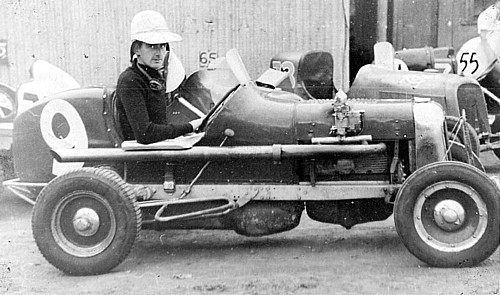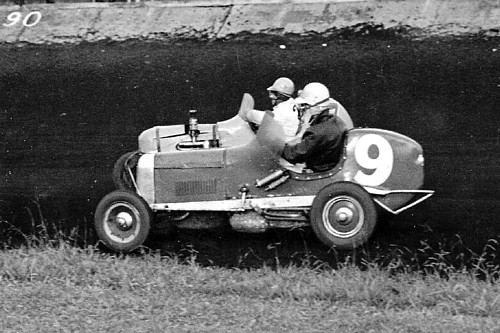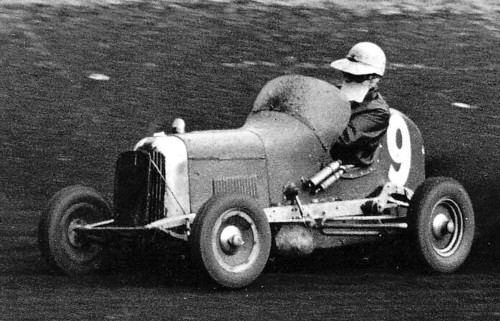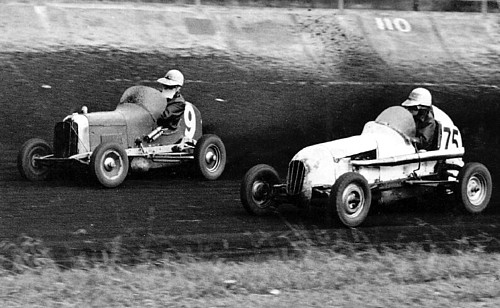 Ross Reid driving # 9 in the four photos above. Ross had the car from 1947 to 1950 and the car was painted red. Ross Reid #9 were the top car & driver at Western Springs during the years in which he drove.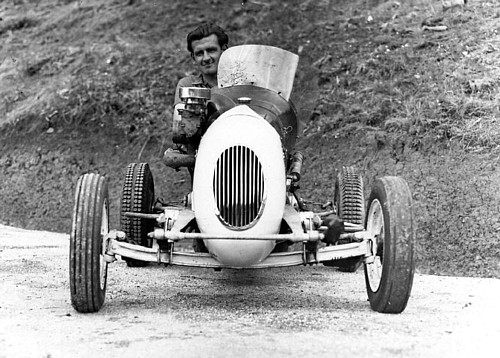 For the 1950 season Ross Reid fitted this new nose & bonnet to #9,

This was the only change ever made to the bodywork.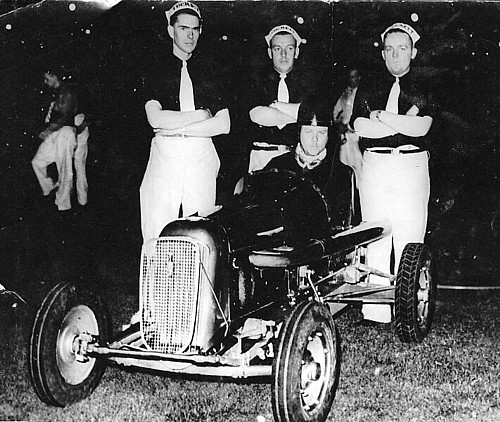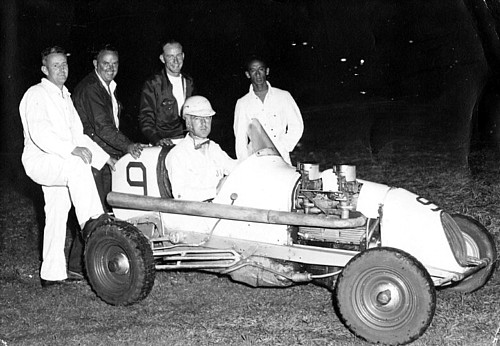 Ron Sutherland 1954-1958,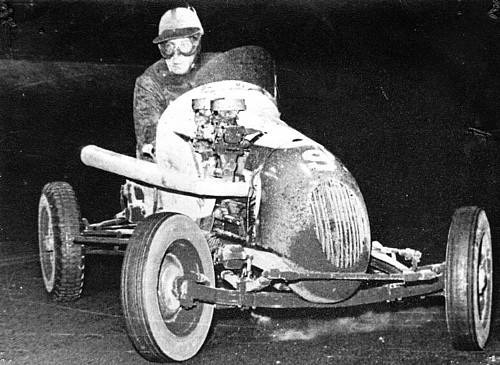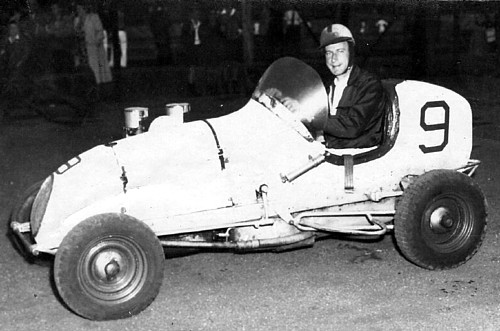 Ian Holden drove # 9 in 1952 painted white # red and 1953 when it was white.

This is Des Herrick Driving #9 it was then painted yellow & silver.

The crew is a very young Gordon Mc Isaac standing by the tail with his brother Doug.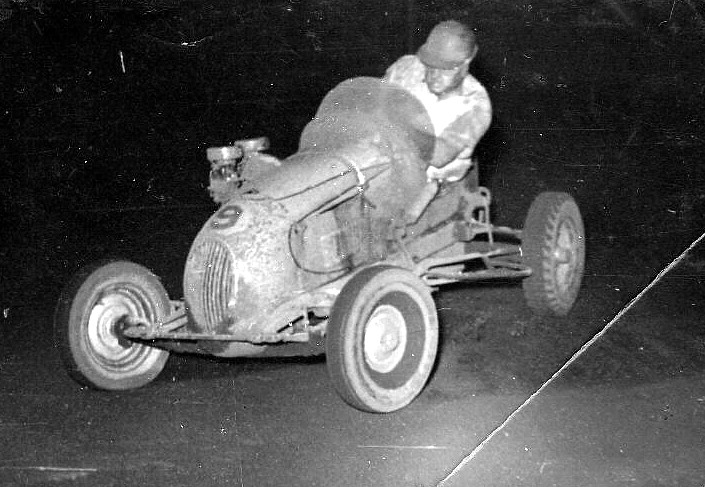 Des Herrick Driving # 9 .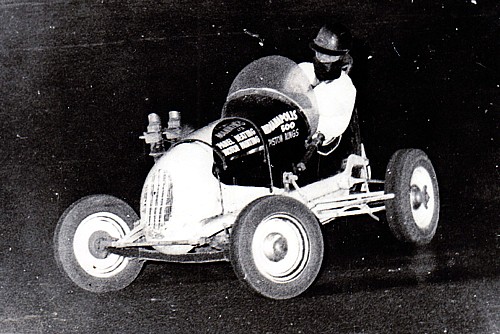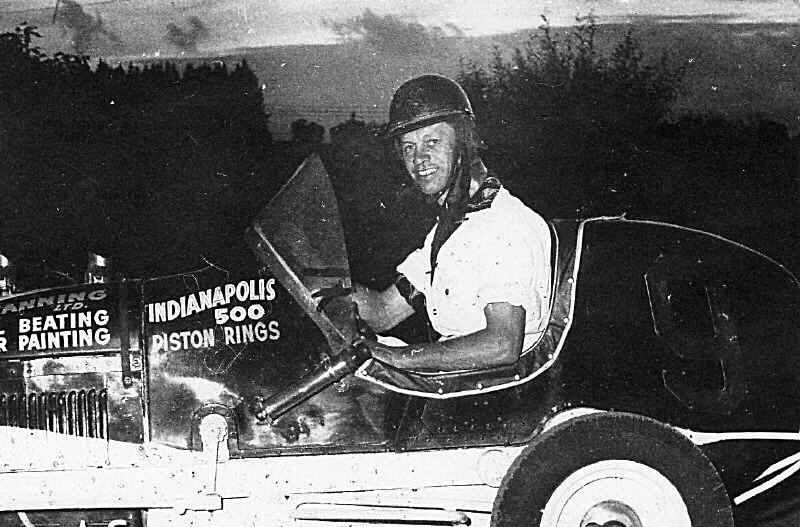 Vic Cook Drove # 9 to its last success when he finished 3rd in the NZ Championship of 1959 and 2nd in the 1960 Auckland Championship 

Car was retired after the 1961 season.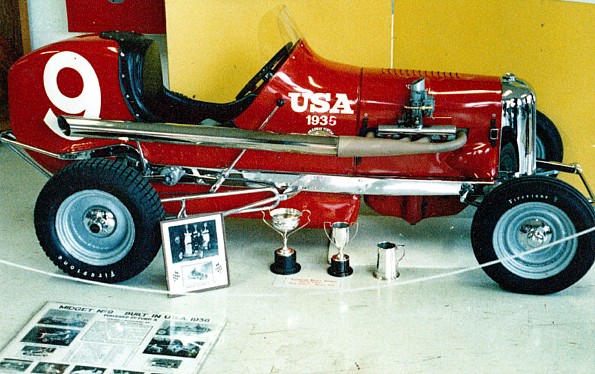 Arch Tuckett, Best Turned Out Car & Crew Sydney Sports Ground 1939.   Fourty years later 1979 Gordon won a trophy at Western Springs Speedway with # 9 for best restored car.


Thank you Gordon for the history of # 99 / 9.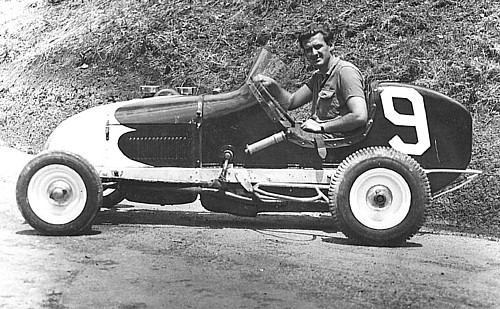 Before - during - and after the restoration of # 9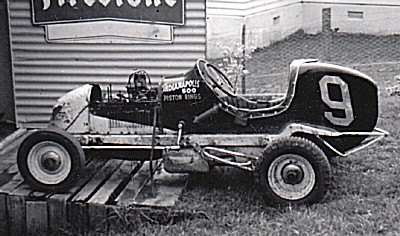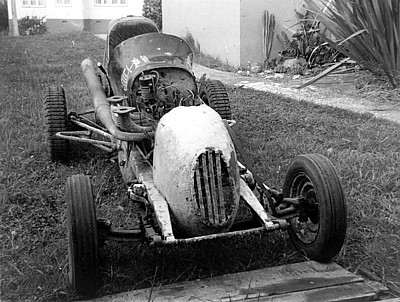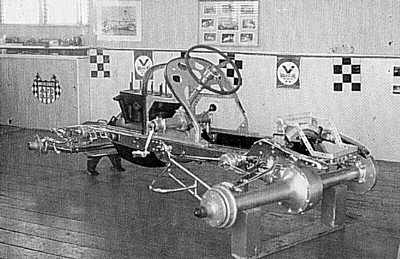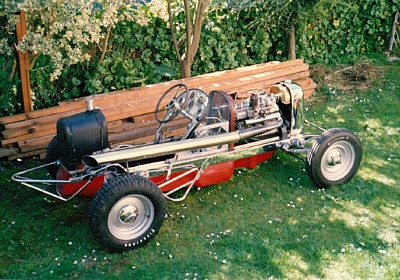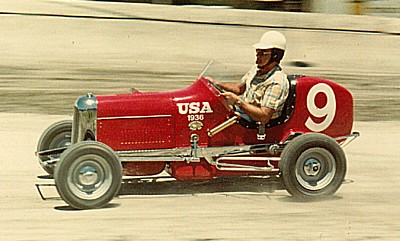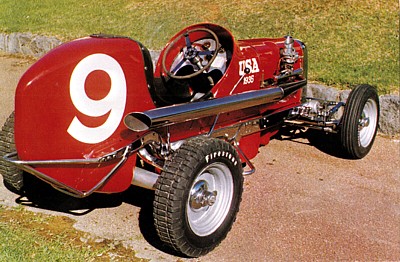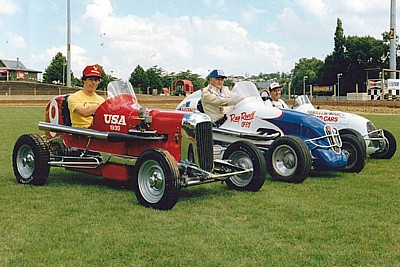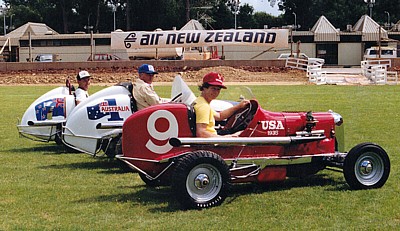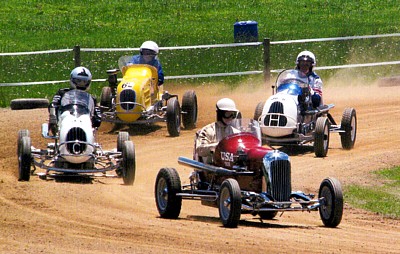 # 9 after 25 years of racing and 14 years of laying idle.

Out front is Gordon giving # 9 a run at the Auckland Vintage Speedway Club track at Meremere in 2011.

This is Gordon in # 9 - taken at Western Springs - NZ - 1990 with Gordon Johns in the Revell Offy and John Stanley

in the Fussel & Cartwright Offy.

After rebuild - driving the car is Ross Reid taking #9 for a spin

around Western Springs in 1979 -  20 years after he last raced it. 

During the rebuild of # 9.