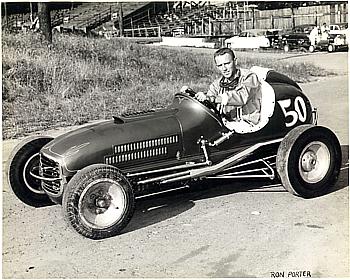 Ron Porter.

The late Ron Porter of Idaho arrived one night in the mid 1950s at Ladner B.C., just over the border into Canada from the U.S.

The WMRA Club was now an Offy club, but many Ford V860s were also there.  One of the outstanding V860s was owned by Gordon Reelie, the # 75  rail job.

Gordon was one of the last "hold outs" to switch to Offy power. He put Ron in the car and Ron went out and set fast time,  I had 2nd in the # 77 Offy and in the Dash, Ron disappeared over the horizon for the win !. I managed 2nd place with Mel McGaughy 3rd and "Red" Anderson 4th.

Now we lined up for the Fast Heat and while waiting to be pushed off, one of my over zealous pit guys took an extra swing on the right rear wing nut, missed, and sheared off the tyre valve !  Now he puts his finger over the hole, like trying to save the air !

They held up the show and let us mount up two more rears. Everybody got pushed off and while waiting to get started Ron came idling by in the Ford that then sounded like iron being worked on an anvil !.

Poor Gordon had lost another engine by using the Nitro can again. He and Ron enjoyed the Dash win for years afterwards and I think it pleased them both to run away from 3 Offys , even just for a Trophy Dash.

When we got the start in the Fast Heat, the late "Curly" Mayben was on pole in the Al Riggs # 63 Richter Ford V860. The 1/2 mile dirt ex horse track was in excellent condition, just enough moisture and clay. "Curly" must have tried to carry on the Ford tradition as he never lifted going into the first turn. My new tyre set up worked good and I moved to 2nd. on the backstretch but by then "Curly" was going from side to side in ever widening runs from inside to outside and back again. Then on a back to the inside run he nailed the inner horse rail, the car went skyward, came down on an inner post, and it was all over for poor "Curly".

His face hit the post so hard the rubber goggle frame was imbedded in the wood!  I stopped right there and as I didn't show on the front stretch the announcer called for my wife Barbara. This compounded hers fears for my safety but she was requested to tend to the three young Mayben children who were distraught in not knowing their Father's fate.

Ron Porter raced with us when he was not driving Sprint cars all over the West. He was the kind of driver you could run alongside all night. He too was to lose his life, but not on the track.  About mid 1960's he was inflating a rear sprint wheel when it exploded on him, killing him instantly. Some say the two piece wheel either had to few bolts or he was exceeding tyre pressure to gain stagger or or maybe the bolts were just hand tight.

We will never know.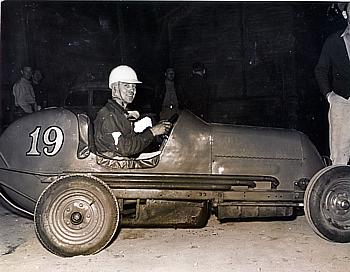 "Red" Pugh in # 19. Mel had been racing about two months when he was in a heat with good friend Red.   Mel was leading the heat, went to sleep on a yellow restart, and after waiting patiently for Mel to get going Red, who was in 2nd, had to take him on the backstretch for the win.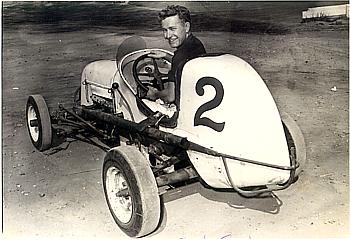 "Shorty" Templeman in the ex Chick Barbo and Allen Heath # 2 car.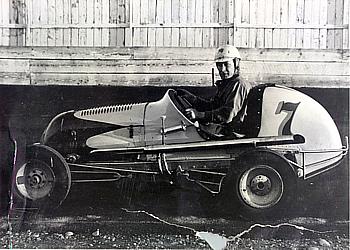 "Shorty" in the Bud Walters car # 7.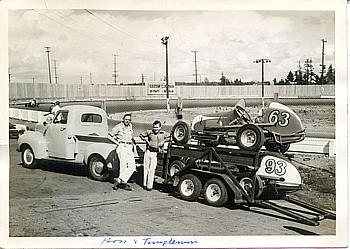 Johnny Goss and "Shorty" with # 63 and # 93. The 63 car was the car "Curly" Mayben lost his life in.

"Shorty" Templeman from the Northwest won all three Main events at  the 16th Street Night Before the 500 meet in 1956, won the WMRA Championship five times 1949 through to 1953, won the Oregan Championship three times 1951 to 1953, was USACs first Champion 1956, 1957 and 1958 and won 22 USAC main events.         ( stats courtesy of Mel Anthony )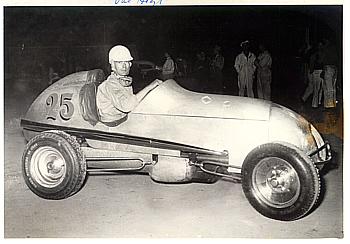 Val Hoytt in #25 lost his life in the Main the same night. Val and Red were great friends. Red lost his life in an accident 2 months later at Portland, Oregan in a Clarence Smith V860.

Racing History Group writer Gene Heeter writes of "Shorty" Templeman to Mel Anthony:

"Mel, I was at Marion , Ohio on August 23, 1962 when "Shorty" Templeman and Jim Hemmings were killed on the opening lap of a 15 lap feature. Roger Mc Cluskey had set fast time with a 26.41 lap and Bob Wente won with Mel Kenyon 2nd, Ronnie Duman 3rd and Jimmy Davies 4th......"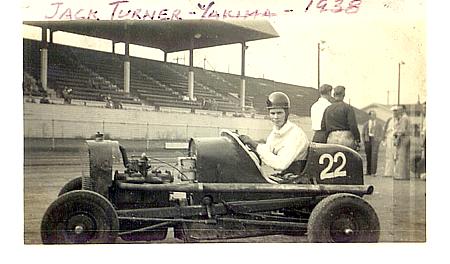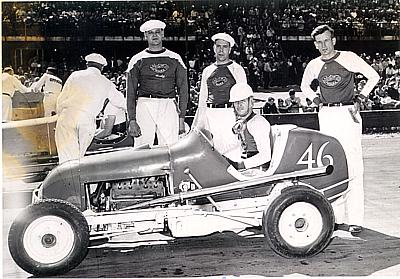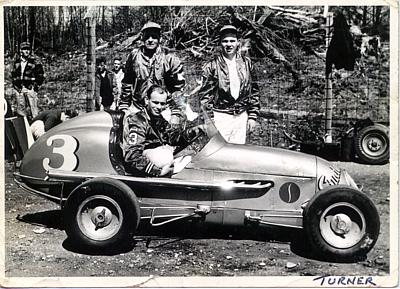 Jack Turner.

Jack at Yakima Wa. in 1938 in a flathead Star powered midget.    His first ride.

Jack Turner and crew at Playland Stadium Seattle, Wa. 1946, driving for Otto Rude. Mel says note the crowd.

Jack Turner and crew at Sea Tac Speedway ( near Seattle ) in his own Kurtis # 3 rocker arm Barker powered car. He later installed an Offy the went east and became AAA midget Champion in 1954 with the Offy powered car.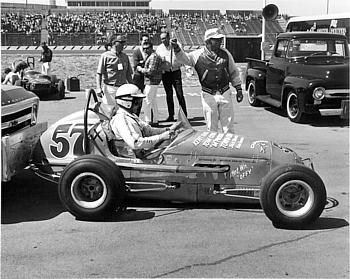 Bob McLees bought the ex Homer Norman Offy in the 60s, took it to a Championship win and sold it on.     ( I bet he wished he hadn't done that now ! )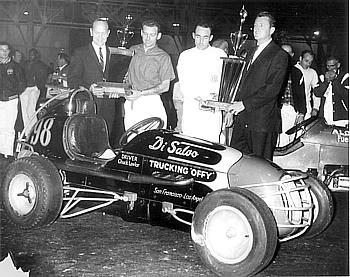 Chuck Lawler and the Harry Stryker Offy # 98

Harry Stryker, 2nd from left, was inducted into the Golden Wheels Hall of Fame with Mel Anthony in October 2002.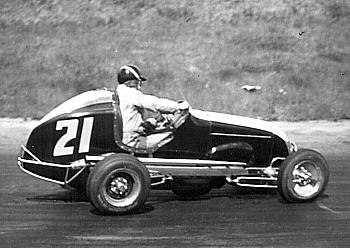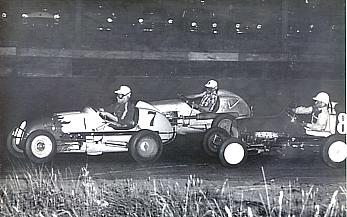 The late Bob Gregg leading the pack in the # 7 car.

Mel says Bob's career spanned 6 decades ( 60 years) and Bob won around 14 Championships in that time.

Bob Gregg setting the immaculate # 21 car for the turn at Playland, Seattle. # 21 pushing a little.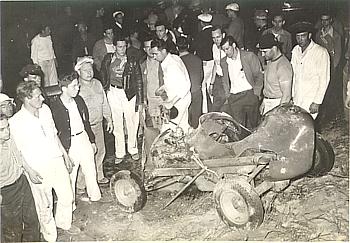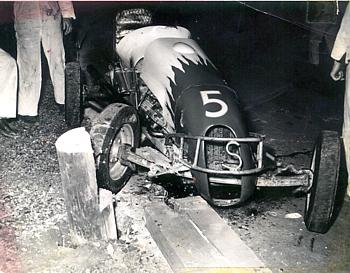 The wreck of Howard "Stocky" Stockwell's # 5 midget.

Bobby Brinton drove this midget right over the top of Mel at Playland in 1946. Bobby and Mel travelled to the Hospital in the same Ambulance. !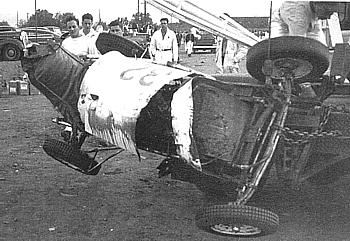 ....and this was Mel's car !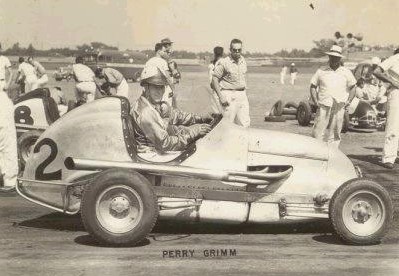 LEFT: Perry Grimm running #2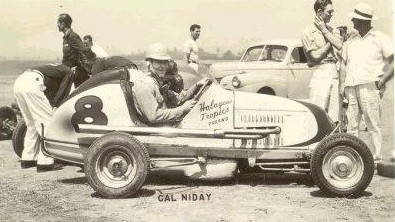 RIGHT: Cal Niday in # 8.  Both Niday and Grimm toured Australia after WWII and were very successful "down under"