A page for photos with a slightly different twist to the normal action, pit or head shots.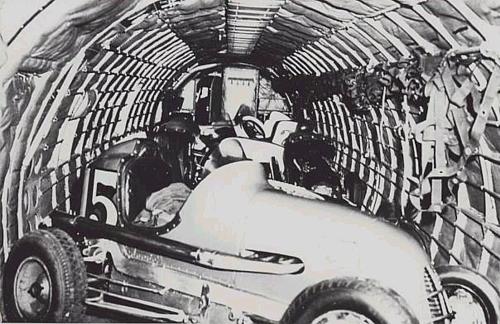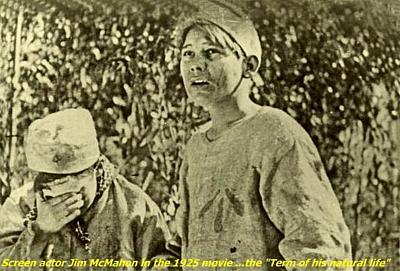 Right, thanks to Garry Baker's patience and technical expertise in computer photo enhancing we can now view this rare photo of Australian midget driver Jim McMahon, who lost his life in a midget accident in the States, acting in the 1925 Australian movie "The Term of his Natural life"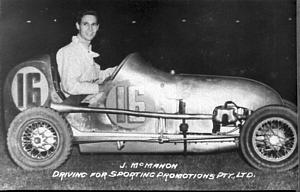 Jim McMahon in his # 16 midget in Sydney. Jim ran 4th in the 1939 and 2nd in the 1941 World midget titles.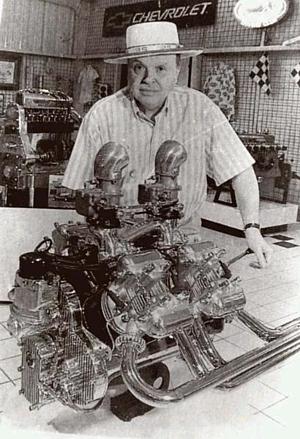 Right, owner of this unique engine is "Speedy"  Bill Smith ( pictured here ) who owns and runs a Museum and Speedway business in Lincoln, Nebraska called Speedway Motors. This engine is based on an Edlebrock Ford V860 and has motorcycle barrells and heads bolted on to it. What an exotic piece of work !

This is the engine that is reputed to have been in the car that Aussie Jim McMahon was driving when he lost his life.

Log onto Speedway Motors at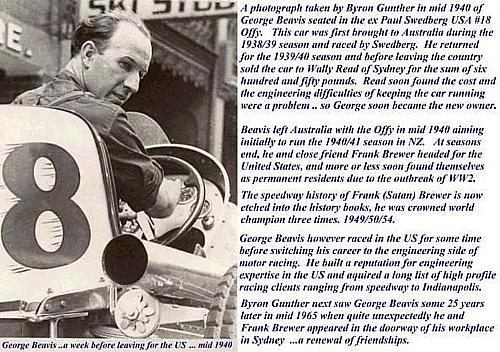 Photo :

Byron Gunther.

Research and Collation : Garry Baker (Vic.)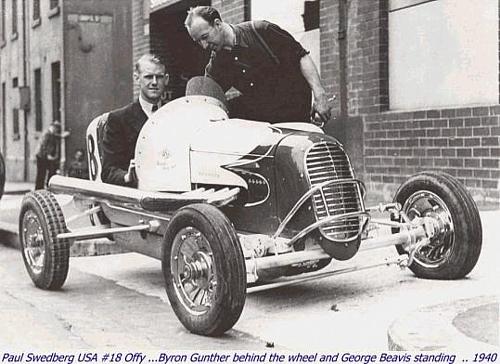 One of Australia's all time great Motorsports Photographers, Byron Gunther tries out the Swedberg Offy # 18 for size. The first night time Speedway photo Byron took was at the Sydney Sportsground Speedway when he was a young budding photographer, the flash globes for his camera were one shilling each ( 10 cents ), he had to make the most of this photo, he could only afford one globe !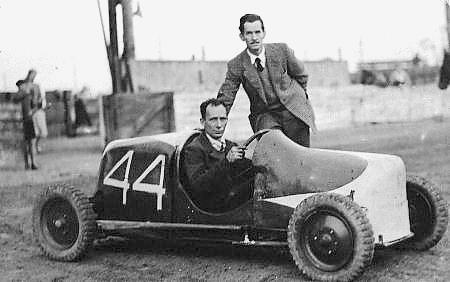 THE CAR THAT MAX BUILT !

One of the World's greatest Speedway Solo riders Max Grosskreutz is seated in his midget creation at Newcastle ( Australia) Speedway in the 1940's.

Standing with Max is Midget legend and three times World Midget Champion, Englishman Bill "Curl the Mo" Reynolds.

Max's midget # 44 had twin Rudge Speedway engines, one front , one back and started life with a canvas body.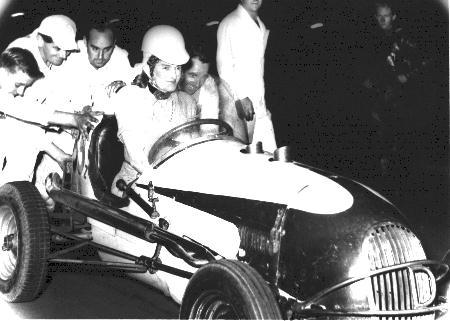 Miss "What-a-Cam" gets pushed away in the Reece Discombe V860 NZ#35 at the Sydney Sportsground Speedway during a "Krazy Nite" meeting in 1950.

Bill Reynolds behind the wheel in drag, named Miss "What a Cam" because of the high profiles of the padded breasts beneath his / her dress !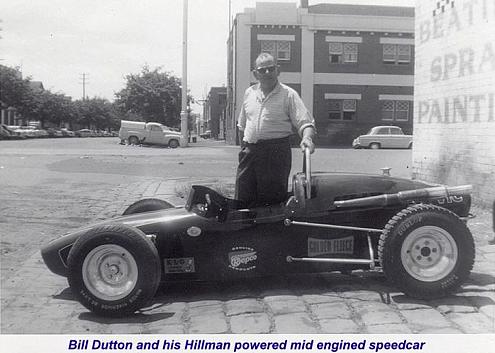 Victorian, Bill Dutton and his own creation, a rear engined  midget using a Hillman power plant.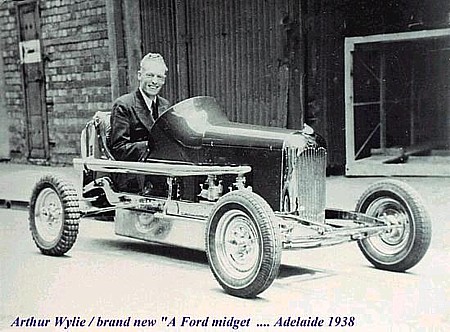 A brand new 1938 Midget !

Photo from the Wylie Collection.

Thanks Garry Baker.

In the boom years the Americans drove so often and so far afield that they started to use planes to to move their midgets around the countryside..