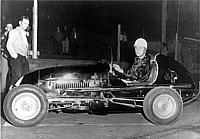 A Friday night. 1949, the late Bobby Harris and I arrived rideless at the Sea-Tac Speedway. Bobby's usual ride, the Sid Carr # 6 V860 was down for repairs. My steady ride, the Norman V860 Solar was also down..

Bobby was soon in the # 21 Kurtis V860, I hopped into the "Curly" Steeves Dryer V860. We both missed the A feature and started the B main from the rear. First and second only would transfer into the A main.

In ONE lap Bobby came from 12th to 1st.   I came from 11th to 2nd.  A piece of cake !  that was until # 21 lost the left rear wheel which headed right for me. No problem, just boot it away and go for the win !  WRONG !

the wheel wedged between my tie rod and front axle, dumping me end over end and landing hard on all 4 wheels.

I lost a little piece of my white shirt, poor Curly lost the whole quick change rear end.!

During dinner that night, at our after race stop, I was offered a ride in Spokane, some 300 miles East on the following night. Duke Ramsey, a former big-car owner had just acquired a Dryer V860 midget. 

About 1.00am we went to his home to pick up the car, where I then learned why he had left it at home.

The two wheel trailer had JUNK tyres and both were flat. Duke had two other wheels with good tyres but of a different bolt pattern and different rim size. I was a fabricator by trade, he had a torch and welder, so at 2.00am we re-invented the wheel.

I cut the centres from all four wheels,  fitted the good wheels with the centres that fitted the trailer, then welded them up. ( This is not the way to correct a tyre problem. )  We finished about 6.00 am and launched for Spokane with me sacked out on the back seat. The terrible shaking from the trailer never awakened me, but we left a trail of tools and parts along the way !

We arrived somehow, made the A main and the little Dryer was running good.  About mid race I came up on Don Olds, who was driving the Lucille Goddard Kurtis which was running Don's own Lea Francis 4 cyl DOHC engine.  It faltered for an instance, I hit him hard, upended again ! high enough to read his instruments then after landing back down we kept going.   For a second there I thought I would have put " a Dryer A Day" upside down. We went on to gain a 3rd in the Main and I had never been in a Dryer before or have been since.

Duke was in no hurry to return home, and it was just as well as he spent the better part of two days rounding up some good wheel and tyres.

I wanted to return soon and came back with " Shorty" Templeman who had won the A main.                   With "Shorty' driving. Yes we did return soon !

Mel Anthony .  Shoreline, Wa. 


Mel writes of the late Bobby Harris : " Bobby later lost his life in the # 6 car after they switched to Offy power. Bobby raced with us for 5 years and was killed at the age of 18 !."

During the 1930s and 1940s, big cars raced on the 5/8 of a mile high banked, oiled dirt , Aurora Speedbowl, about 15 miles north of Seattle.

We lived close enough to hear the great sounds of racing engines breaking loose as they hit the ruts. That sound would send me scurrying to the track on my bicycle.

One day I heard the roar of a testing car and hurried to the track. By the time I arrived the testing was over, but the back gate was open. A road grader was slowly following an oil spraying truck, grading sand and dirt over the fresh oil.  As long as nobody stopped me, I thought it would be fun to follow on my bike.

We were on the back stretch just entering the turn when I decided to pass the slow moving grader. The oiling truck up ahead was laying down black sticky bunker oil and the turns were very steep. When I got by the grader on the high side my bike began to slow. Not a good move on the oily high bank !  As the tyres increased in diameter the "rim riding" ended. Down we went, bike and I all the way to the bottom.

The oil was into my Tee shirt, pants, eyes, nose, ears and in fact every body "cavity". The grader operator stopped to assist me, all the while laughing hysterically. We squeezed much of the oil off so I could head for home. At a Gas station I got a can of kerosene to wash off more. At home I was not allowed into the house until I had become de-greased. It was some time later that I was finally sleeping between clean white sheets again.

A few years later, driving a racing roadster through that same South turn, I recalled the "oiling" I got that day. Now 65 years later I still remember !

Mel Anthony. Shoreline.Wa.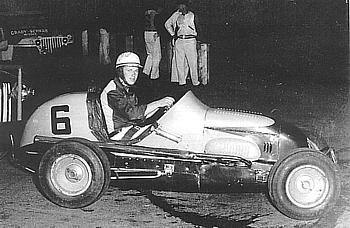 Bobby Harris in the Sid Carr # 6 V860.

The season ending race in 1950 at the Aurora Speedway, Seattle was a benefit show for the late Del Fanning. Del was a roadster, big car and occassional midget driver who was seriously injured mid season when a stuck throttle put his roadster in to a wall.

The morning of the benefit race he was released from the Ballard Hospital and some one provided an Ambulance to bring him to the track.  This was a combined effort of roadsters, big cars and midgets. We were to run separate features but the groups became a little too competitive, striving to out perform each other.

Drivers in the midget main were: Rodger Ward, Jack Turner, George Amick, "Shorty" Templeman,

Allen Heath, Paul Pold, Billy Cantrell, Don Hale, Don Olds, Ray Mann, "Digger" Caldwell and myself.

My ride that day had just been purchased by Homer Norman and was the former # 27 Edelbrock Kurtis Offy driven by Perry Grimm at Gilmore, that day powered by a potent Ford V860. 

After a fast start we were running 3 abreast. Don "Roller Bearing" Hale on my right punched Ray Mann turning him sideways in front of me. Jack Turner was to my left leaving me no options other than launching over Ray's left front to an altitude record for a Kurtis ! I then slid the length of the main straight upside down, nearly landing in the courtesy Ambulance with Del.!  Hot motor oil soaked me during the slide and both arms had deeply imbedded ashphalt, no doubt from attempting to hold the car off me in the long slide.

They rushed me to the Ballard Hospital washed off the motor oil, wrapped my skinned arms in medicated hot soak dressings, then on to x-rays, reveallng a broken shoulder and collar bone.

Now get this ! I was assigned to the room and bed that Del had vacated that morning ! The crash does not compare to the panic I was to endure the next morning on my stay in the Hospital.

My first visitor was a young blonde car-hop waitress, who must have seen the crash and came to cheer me up. The girl had done some shopping and wanted to show me her purchase. She emptied the bag, laying out new intimate panties and bra on the bed. I had no idea of her motive but when Barbara, my wife of 4 years, arrived there was little doubt ! The girl mentioned the cheering up programme to which Barbara announced: " Visiting Hours Are Over ! any cheering up I will do !

She then escorted the girl to the Bus Stop, paid for her ticket, ( poor girl had spent all on the display )

and I will never know what else was said.

After 56 years together, we still remember. I laugh, Barbara grins ( slightly). Racing did get complicated at times. !

Mel Anthony..Shoreline.Wa.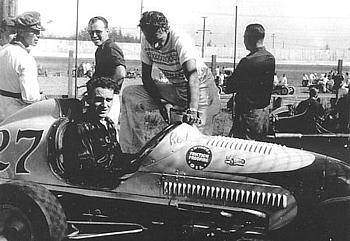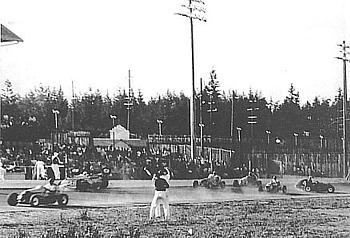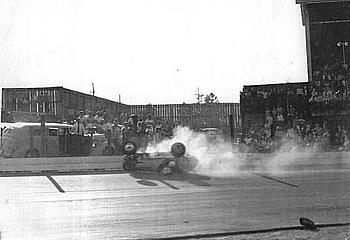 Mel's ride for the Del Fanning Benefit race was the ex Perry Grimm Offy # 27, on this day powered by a potent Ford V860.


Mel, in # 27 ( arrowed ) starts his upside down slide coming out of 4.

..and finishes the slide at the other end of the main straight, right in front of Del Fanning in the courtesy Ambulance.

Photos courtesy of Mel's Collection.