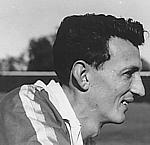 The late Don Newell, a very active and very tall midget driver in the 1960s has shared his photo collection with us here on Just Midgets. He drove the Mackay # 5 Holden and his little Hillman Roadster # 30 among other cars and was a great lover of Australian Speedway in general................Thank you Don.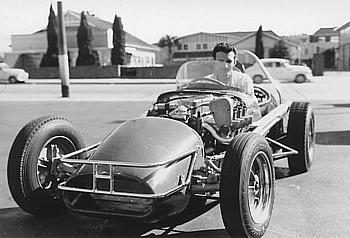 Don and his ex Jennings Hillman powered roadster midget # 30 on the forecourt of the Harvey Ampol garage, Five Dock, NSW.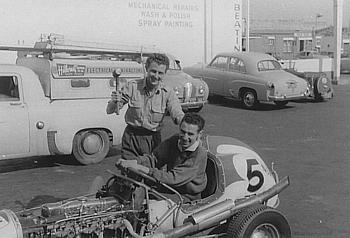 Don in the Mackay Holden # 5 with a hammer wielding Johnny Harvey at the Ampol garage.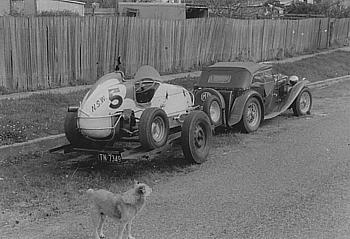 Don's unique Towmaster ! an MGTC.

I don't think that trailer would pass a rego check today, Don.   The Newell dog in foreground.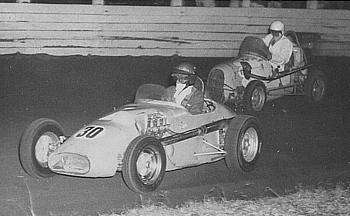 Don in action in the Hillman # 30.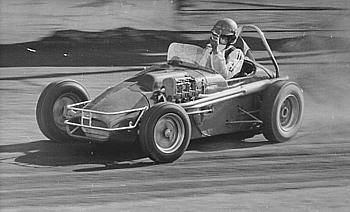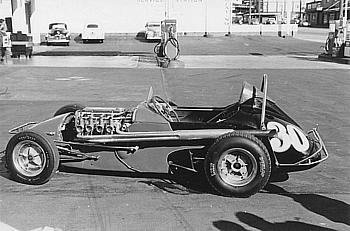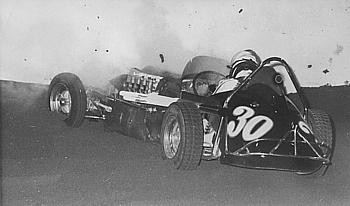 Don and # 30 come a clunker on Pit turn at the Sydney Showground Speedway.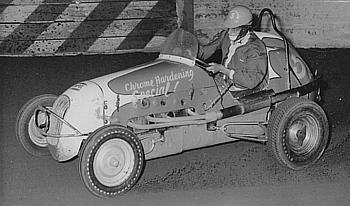 Don in # 5 The Chrome Hardening Special Holden.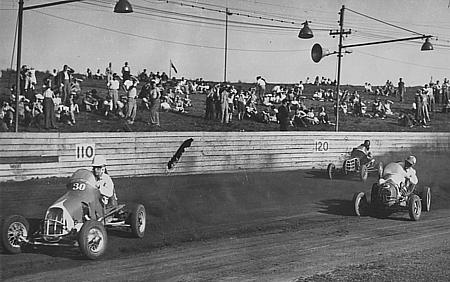 Midget action at the Sydney Sports Ground Speedway early 50s, turns 3 & 4.

Spike Jennings in the air cooled twin # 30 leads Harold Barnes in the Jeep

# 5 with Allan Marshall in the Eddie Dark twin # 1 bringing up the rear.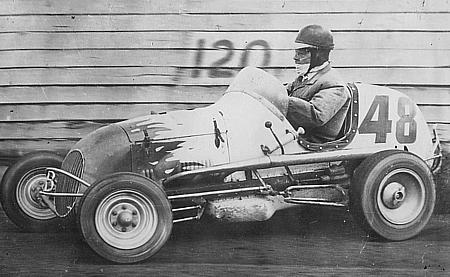 One of the greatest Speedway riders the world has known. Jack Parker of England tries out the Brewer # 48 Ford V860 midget at the Sydney Sports Ground.

Jack crashed the car and broke his arm vowing to stay with bikes in future.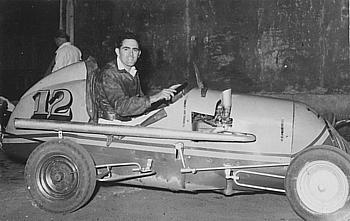 A top Syney driver for many years, Johnny Peers and the # 12 A Model Ford midget.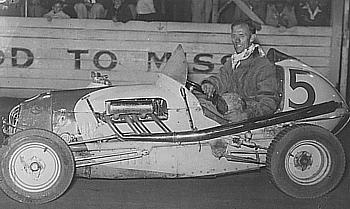 Bert Martin was a leading Sydney sidecar rider who also drove midgets very well. Bert is seen here in the Harold Barnes Supercharged Jeep # 5. This car is now beautifully restored and lives in Wagga Wgga,NSW.

Johnny Harvey driving the mackay # 13 Holden. This famous # 13 was derived from the very car Jack Parker is driving in the photo above ( the Frank Brewer # 48 ). The car is now being restored as the Mackay/ Harvey 13.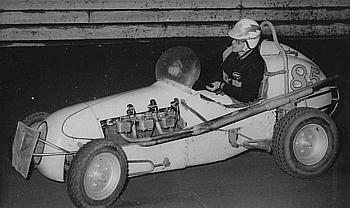 Peter Pantlin, who drove the Mackay Holden # 85 under the name of Peter Johnson. Peter lost his life at the Royale in a midget on 7th January 1961.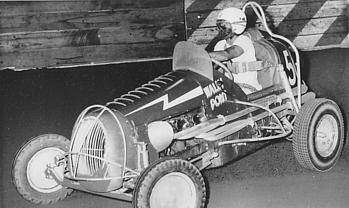 Popular sidecar rider, Jack Bissaker, also drove midgets very well. He lost his life in a midget at the Royale on 21st October 1961.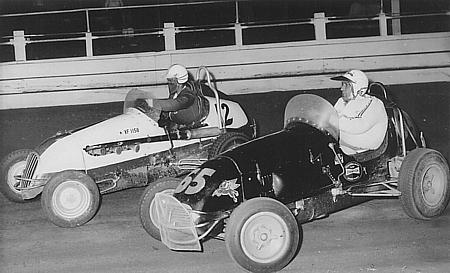 Close action at the Royale with Rob Greentree in the # 12 Madden Holden and Andy McGavin in the Mackay Offy # 65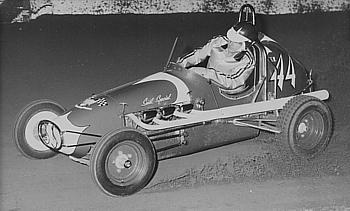 Johnny ' Super ' Stewart in what looks like a fairly new Laurie Seidl Holden # 44.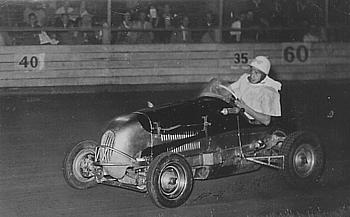 Western Australian visitor to Sydney, Wal Kobek in the WA 99 midget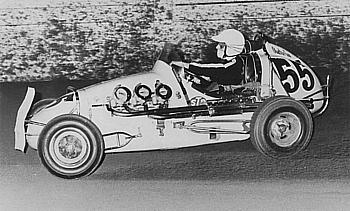 Ray Oram in the immaculate yellow # 55 Max Linklater Holden Midget.


I hope you have enjoyed this page of Don's collection of midget memories.

On to Page 2 of Don's collection.....

Sad to say Don passed away suddenly at home on the 23rd May 2007...

we're going to miss you Donny.