Fred Scully, Speedcar builder / driver, one of the Speedcar pioneers in Australia. Some of Fred's photographic memories have been supplied to us on ' Just Midgets ' by his son Bruce.  Great photos, great history.

..............thank you Bruce.

-----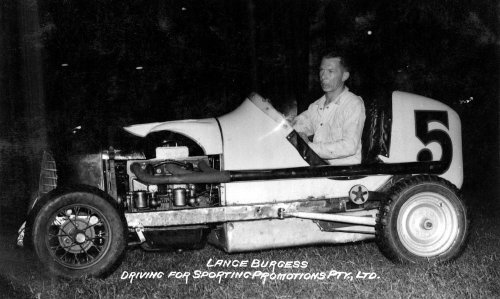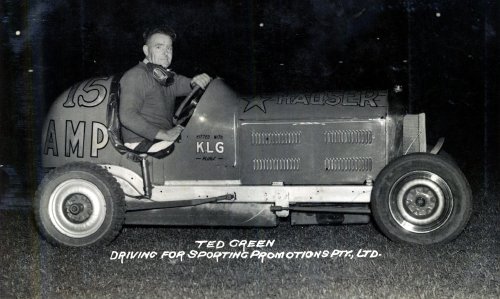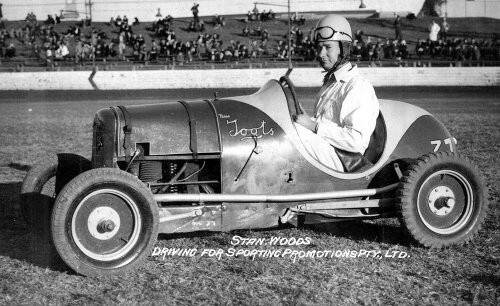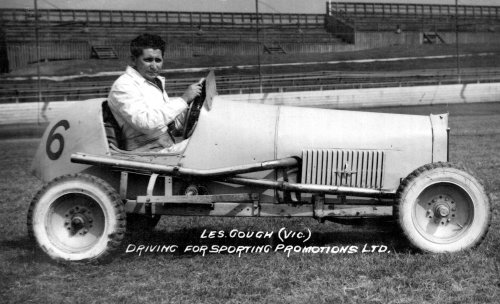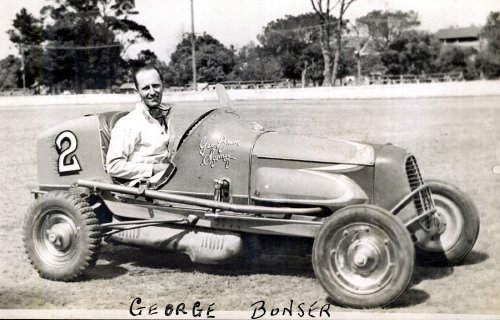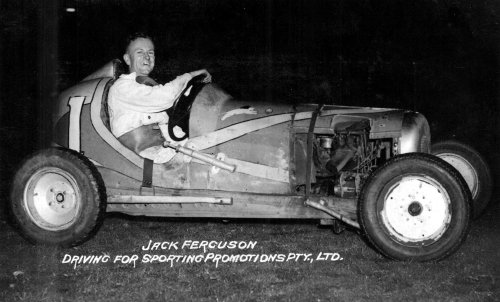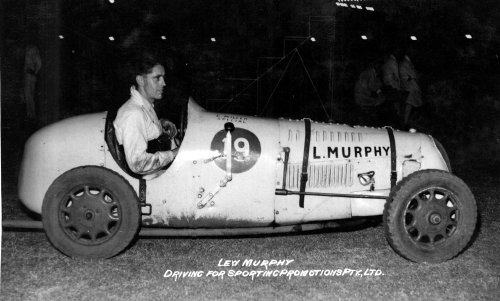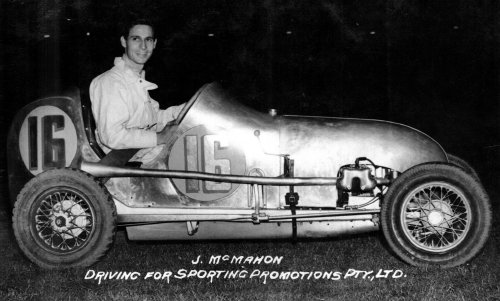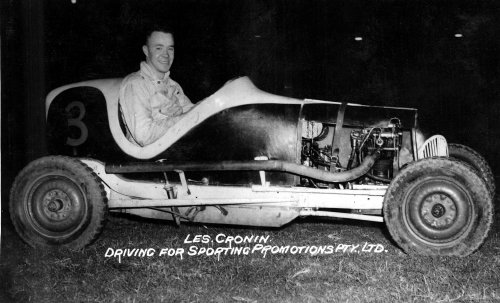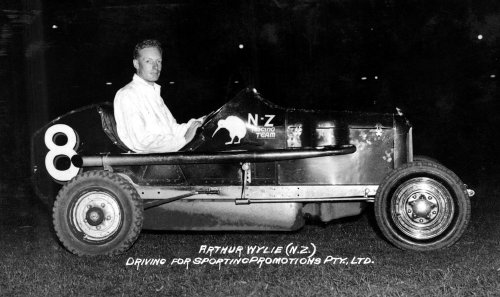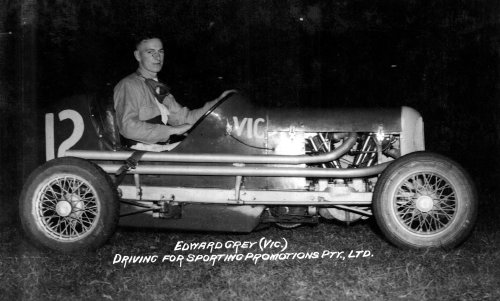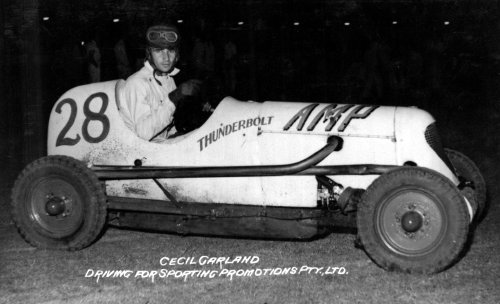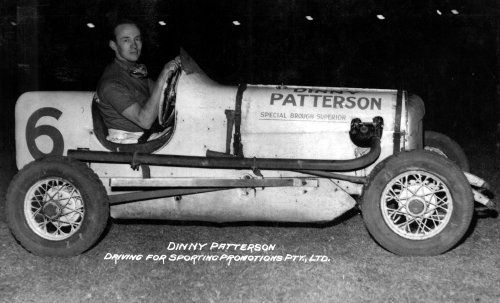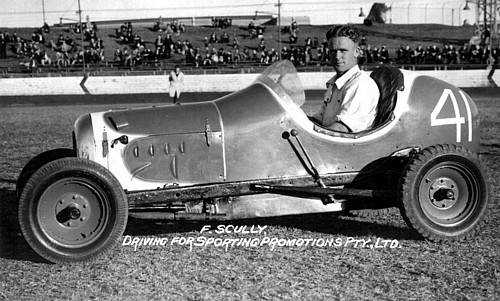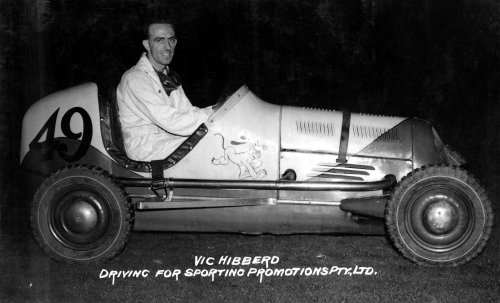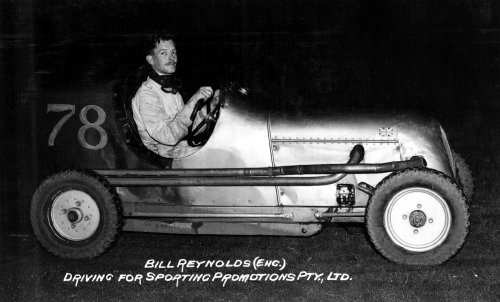 An Australian Speedcar pioneer - Fred Scully car # 41 - Sydney Sports Ground - Circa 1939.

Ted Green, builder / driver, AMP was the intitial advertising logo for AMPOL Petroleum..

Stan Woods in # 37 - ' Miss Toots.'

Les Gough - Australian Speedcar Champion in 1936 at Olympic Park - Melbourne - Victoria.

Jim McMahon in the twin Douglas Aero engined Special # 16 - He was Australian

Speedcar Champion in 1947. Jim lost his life in a midget accident at Carpinteria

Thunderbowl Bowl - California - USA - on July 11th. 1948.

Sydney's George Bonser in his V860 # 2 on the infield of Parramatta's Cumberland Oval.

Jack 'Pop' Ferguson - passed away in 1956 after an accident at Cumberland Oval in 1955.

Lew Murphy in the Miller Special # 19- Claude Miller of Victoria lost his lfe in the car at the Sydney Sports Ground on 25. 4 1939.

Len 'Curly' Cronin - later to drive for Ron Ward.

Victorian - Arthur Wylie in what was later to become the Ray Revell Q1 - A Model.

Victorian - Ted Grey ( Gray) - Australian Speedcar Champion in 1939 - later to excel in Road Racing in the 1950s in the Chev Corvette engined Tornado Special.

Cec ' Gruff ' Garland in the ex Putt Mossman Skirrow. Cec was also a successful

International Solo Speedway rider.  He was the first Speedcar competitor to have sponsored

advertising on his midget. AMP was to become AMPOL Petroleum.

Dinny Patterson - also Australian Speedcar Champion in 1939. He lost his life in an accident in the USA.

Victorian - Lance Burgess - Car # 5. # 5 was later driven by Jack Daly,

then Bill Reynolds on one occasion as 'The Rocket Car'.

Daly lost his life at the SSG in # 5 on 5.1.1946.

Vic Hibberd in car # 49 . This little car went on to some great victories in the 1950s and 60s in the hands of Peter Cunneen driving the car as the # 41 & # 4 V - twin for Don Murray.

Ace midget driver for 3 or more decades - Englishman Bill 'Curl The Mo' Reynolds in his Skirrow # 78. Bill won the World's Speedcar Championships inSydney in 1939 - 1941 and 1958 and was Australian Speedcar Champion in 1940.